Here's a guide to show how to email receipts and attach them in  aio*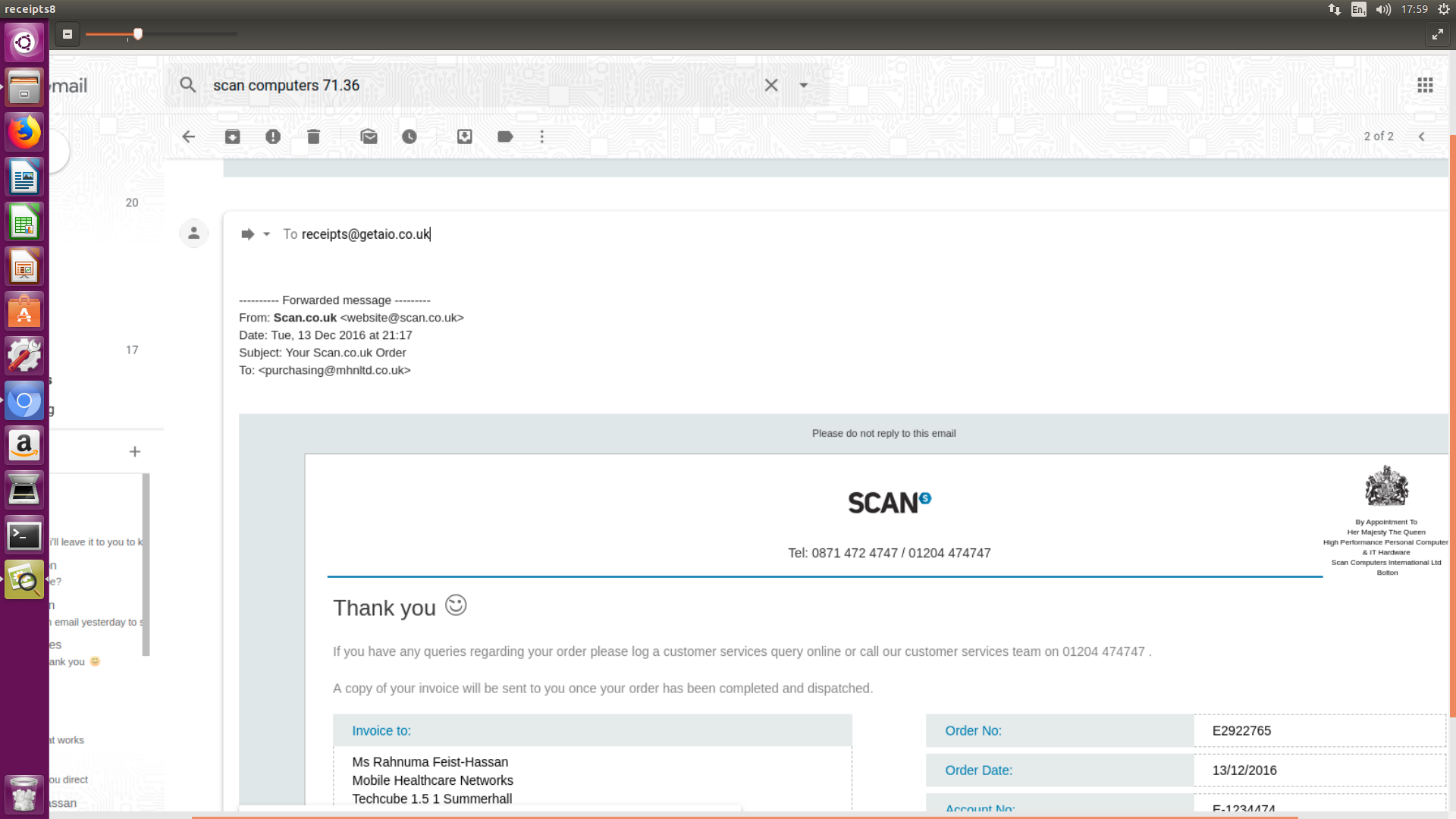 Sometimes when making online purchases using your aio* card you will receive a receipt or invoice in the body of an email rather than as a PDF attachment.
To attach these kinds of receipts to your transactions in your aio* app, you can forward these emails to

receipts@getaio.co.uk

and they will be uploaded as images that you can select in app.

Once you've forwarded your desired receipts to receipts@getaio.co.uk. You can log into your aio* app and follow the instructions below.
Tap on top right hand tab "

SPEND

" or bottom right tab that says "Spend" to view your transactions

If you have uncategorised transactions then a red box with a number indicating how many uncategorised transactions you have will show on the bottom right"

Spend

" tab

In "

My Transactions

" any listed transaction that does not have a spend category selected will have a red flag

Tap on the transaction that you want to view and you'll be taken to its "

Transaction Details

" page

In "

Transaction Details

" you can add a receipt

To attach a receipt, tap on "

Add receipt

" and a pop-up menu will appear with 3 options

Tap on "

Choose from emailed receipts

" to go to the receipts that you forwarded via email to receipts@getaio.co.uk

If there are no emailed receipts available to attach, then it will say "

You can also forward email receipts to receipts@getaio.co.uk

"

You can see how how many emailed receipts there are in the middle top of your screen (

1 of 4

etc.)



You can use the arrows at the bottom of the screen to view all the emailed receipts if you have multiple



Once you have the desired emailed receipt then you can tap on the "

+ATTACH

" button on the bottom right of the screen

If you no longer need  the email receipt, you can tap "

-DELETE

"on the bottom left of the screen

Once you've either attached or deleted the emailed receipt, you will be returned to the "

Transaction Details

" page


If you're happy with the changes you made, tap on the blue  "

SAVE CHANGES

"button

You can then view and/or delete the receipt by tapping on "

View receipt

"

If you want to delete the file tap on the "

-DELETE

" button on the bottom left corner

A pop up will appear asking you to confirm your choice.  

Tap on "

OK

" to confirm deletion of file